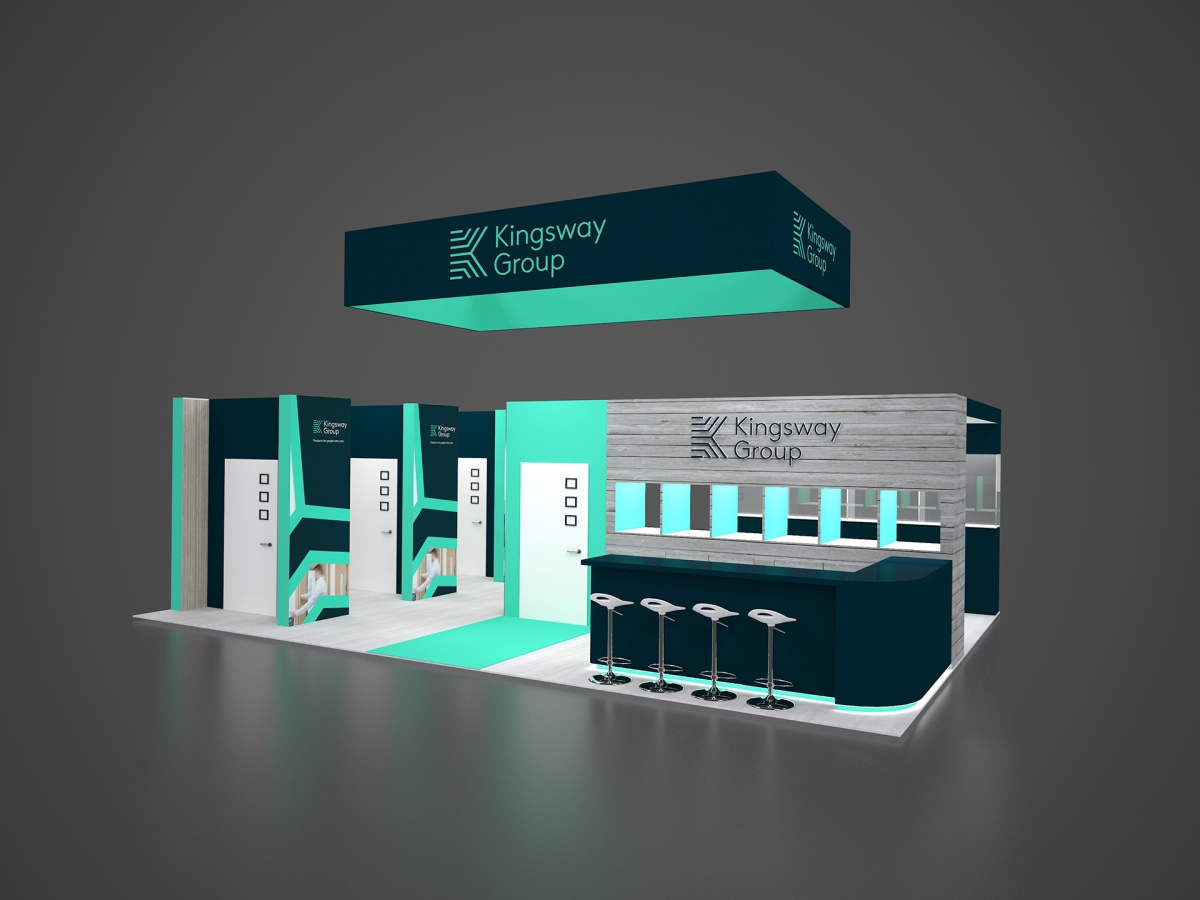 Client's Brief:
Envisage have been partnering with Kingsway for several years now to provide exciting yet very functional design solutions for their exhibitions. In the early days, the Design in Mental Health show took place at the wonderful Motorcycle museum near to the NEC in Birmingham. Recently the event has grown and now takes place at the Ricoh Arena, affording more space and headroom. Kingsway are continually innovating to maintain their leading position as suppliers of complete door systems and anti-ligature design to improve safety and reduce risk in the manufacture of door systems into the mental health market.


Deliverables:
Coming alongside the new Brand messaging we developed 3 door set environments that underpinned the whole ethos of the 3-step process in delivering innovation. As always, these supporting structures for the door displays have to be extremely sturdy to withstand the constant demonstration to customers of these substantial doors, coupled with a very short build time, we have to take the construction method into consideration. Being an island site gave the opportunity for good access onto the stand from every angle and a store area on the rear elevation gave the perfect place to display door furniture and anti-ligature product, as well as a 55" screen playing content to visitors in the aisle and attracting them to enquire with stand staff.


The Experience:
With an exciting new Brand Identity available for us to work with, we were able to collaborate with the Brand agency to bring a whole new look to the stand, but to also capture many of the new philosophies surrounding the vision for their future. A unique 3 step project delivery set around "Design, Define and Deliver" says almost all you need to know about Kingsway's collaborative approach to innovation through the customer's requirements.
Customers being so key to Kingsway's success, it was important to be able to provide a lovely fresh coffee and a nice area to sit and take the weight off for a while, which we did with the help of a fabulous bean to cup machine and served in newly branded cups.


Results:
The resultant stand looked truly amazing and attracted many new customers onto the space as well as valued existing clients. The opportunity to feature the sensory door set as a special feature area, also proved a great success with the customers and gave the space a real buzz. A large overhead banner structure was suspended centrally above the stand to obviously attract delegates from a distance, but in this instance, it was an extension to the floor standing structure and enabled us to create the illusion of a tall structure without physically building up to 6 meters.


Sign up for the latest news