Brief:


Roper Rhodes approached us to develop an exhibition design solution to showcase R2 and Tavistock at KBB 2018, where both brands would share an exhibition stand space. As a brand R2 have excellent understanding that value is important but that should never be at the expense of good design. That's why their furniture features fully coordinated pieces, made from quality materials, with soft-close doors and drawers & their stand design was to be no different.







Deliverables:


One of the main objectives was to reinforce the R2 brand at the KBB event & help increase brand & market awareness. The R2 logo branding was used as symbolic motif to influence the architecture and design of the space.


The main area was to be divided down the middle to produce two stylistically different structures, although the two stands did share very similar objectives & therefore would inherit a number of characteristics. The R2 structure itself was built with walls at the maximum available height of 4 metres to give the stand a great presence within the hall & capture the eye of the visitors.


R2 possessed a high volume of product that needed to be displayed, which in turn was going to use quite a large percentage of the available area.


In order to maximise the space on the stand the design offered both inside and outside display areas giving a range of opened and closed edges.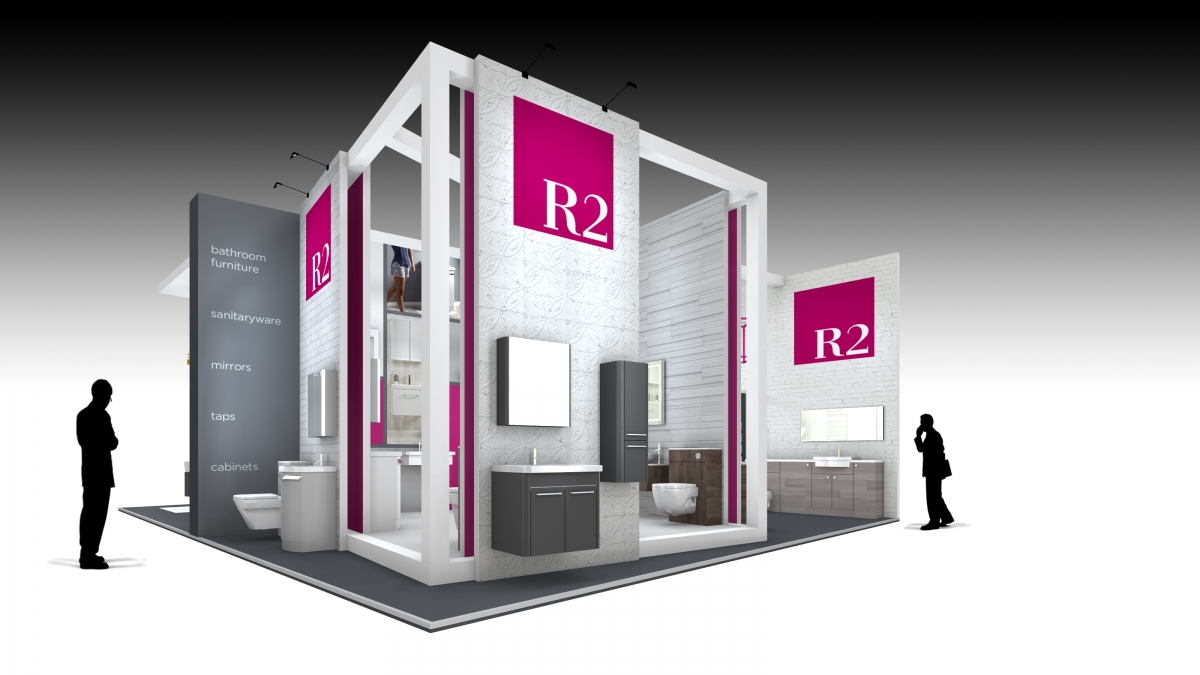 Experience:


A 4-metre cube dominated the front corner of the stand which elevated the floor level away from the aisle to allow people to seamlessly flow from the aisles, increasing the feeling of spaciousness.


On the back wall of the stand a 'Mondrian' pattern was used to create an eye-catching display comprising of a combination of professional photography and real product set against coloured panels. This again is a play on the square format theme that ran throughout and utilises the height of the stand to allow more products to feature than a conventional layout would.


The stand was furnished with cube pendant lights in the R2 brand colour. These would be supported by a number of white beams that would incorporate lighting to illuminate the inside of the stand.
To complete the space architectural openings lead to room sets containing product with a lifestyle backdrop comprising of suitable décor and accessories.


Results:


The final outcome delivered an exhibition platform that was able to showcase the high-quality product range of R2, allowing the visitors to view the product effectively in a stylish & exclusive environment. Previous collaboration with Roper Rhodes had helped us to form a great partnership & this collaborative working really helped ensure the success of the stand. The finished design enabled both R2 and Tavistock to seamlessly share a stand space, while holding their own as individual brands.



Sign up for the latest news